Guarda all'interno del tuo giacimento con Leapfrog Geothermal.
Prendi decisioni chiare e affidabili per lo sviluppo e attività geotermiche.
Adalta è Rivenditore Ufficiale e Importatore Diretto per l'Italia di Seequent Leapfrog Geothermal. Richiesta quotazione…
---
Perché scegliere Leapfrog Geothermal
Strumenti e flussi di lavoro su misura per gli esperti di geotermia
Leapfrog Geothermal è un software di modellazione 3D del sottosuolo intuitivo e basato su un flusso di lavoro che consente di costruire e perfezionare i modelli in modo rapido.

Prendete decisioni intelligenti sulle vostre risorse con il targeting dei pozzi, la modellazione numerica e la simulazione del giacimento in un unico modello 3D.

Strumenti e processi di facile utilizzo ottimizzano i dati e favoriscono la collaborazione, in modo che possiate:
Ottimizzare i pozzi geotermici
Decisioni sicure sul targeting dei pozzi e sulle operazioni. Costruite e testate rapidamente traiettorie di pozzo e prognosi in 3D sulla base dei vostri modelli del sottosuolo, assicurandovi di lavorare sempre con le informazioni più recenti.

Aggiungere nuovi dati o apportare modifiche a un modello per aggiornare dinamicamente tutti i modelli dipendenti. Ottenere informazioni per modificare la traiettoria dei pozzi durante la perforazione, non appena sono disponibili i dati più recenti.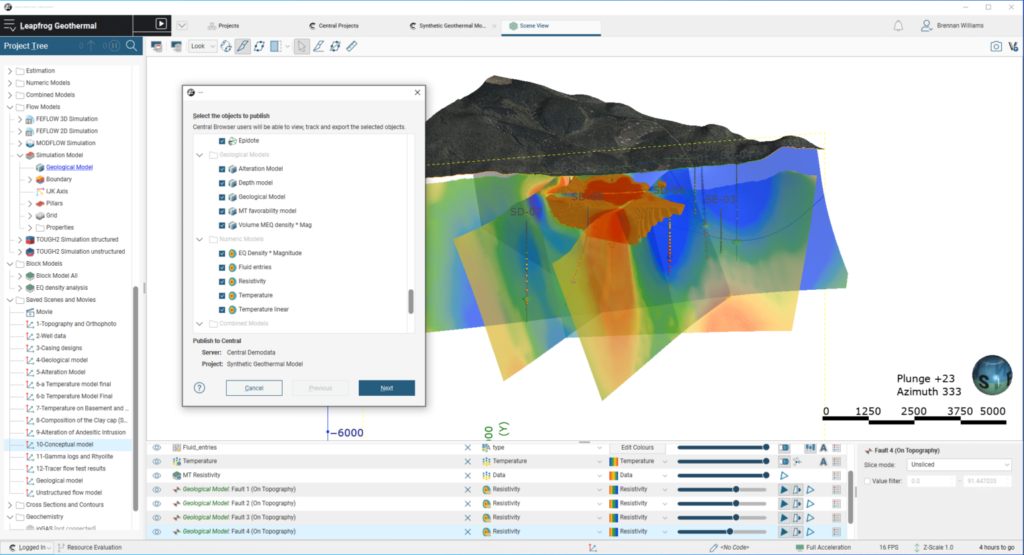 Ridurre i rischi
Comprendete e comunicate il quadro completo della vostra risorsa geotermica con visualizzazioni 2D e 3D.

Create filmati, condividete fette e aggiungete annotazioni per spiegare le vostre idee. Utilizzate le immagini per comunicare in modo chiaro le intuizioni ad altri team e agli utenti non tecnici, per generare conversazioni e prendere decisioni ben informate.

Visualizzate rapidamente nuovi dati in 3D per ispirare idee e iterazioni. Sovrapponete la topografia per contestualizzare i dati del sottosuolo.
Unire geologia, flussi e modelli numerici
Eliminate i silos e create un flusso di lavoro continuo tra i team. Portate tutti i dati di geoscienza in un unico ambiente grazie alle integrazioni dirette con i software di ingegneria dei giacimenti e di geofisica leader del settore.

Costruire rapidamente modelli concettuali da vari tipi di dati, come GIS, sezioni trasversali, flusso, geofisica, geologia, pozzi e altro ancora, in un ambiente multidisciplinare.

Leapfrog Geothermal si interfaccia con i principali software di ingegneria dei giacimenti e di geofisica per una rapida interpretazione dei giacimenti geotermici.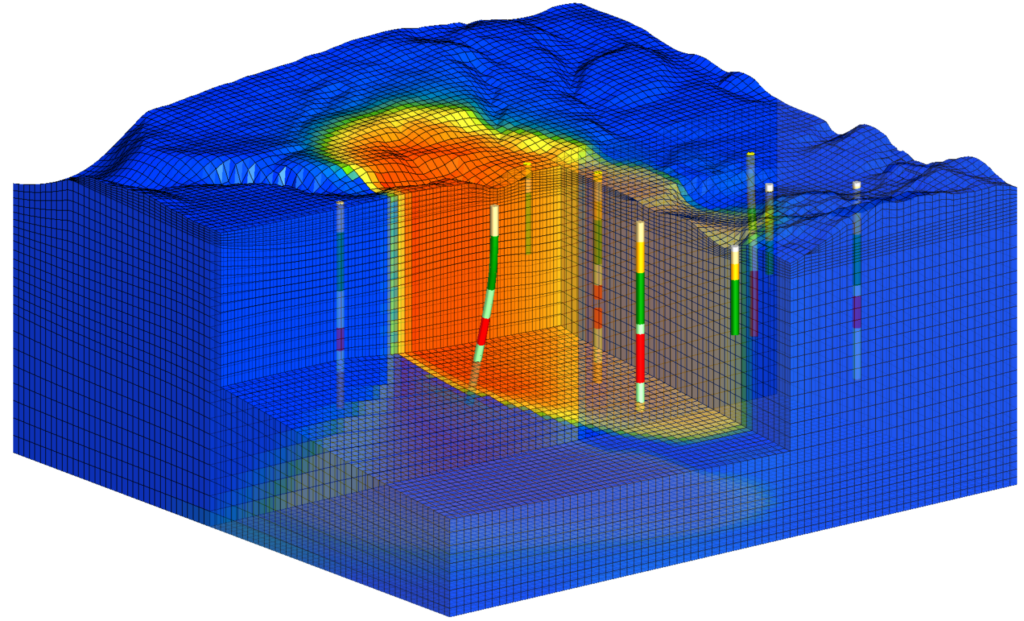 ---
Creare un modello completo del sottosuolo aggiungendo i dati geofisici.
I modelli geotermici Leapfrog si integrano direttamente con i formati SEG-Y. Visualizzazione di dati geofisici puntuali dipendenti dal tempo, come gli eventi microsismici. Importazione e isosuperficie di dati geofisici grigliati, come la resistività magneto-tellurica, per aiutare a delineare l'estensione dei giacimenti.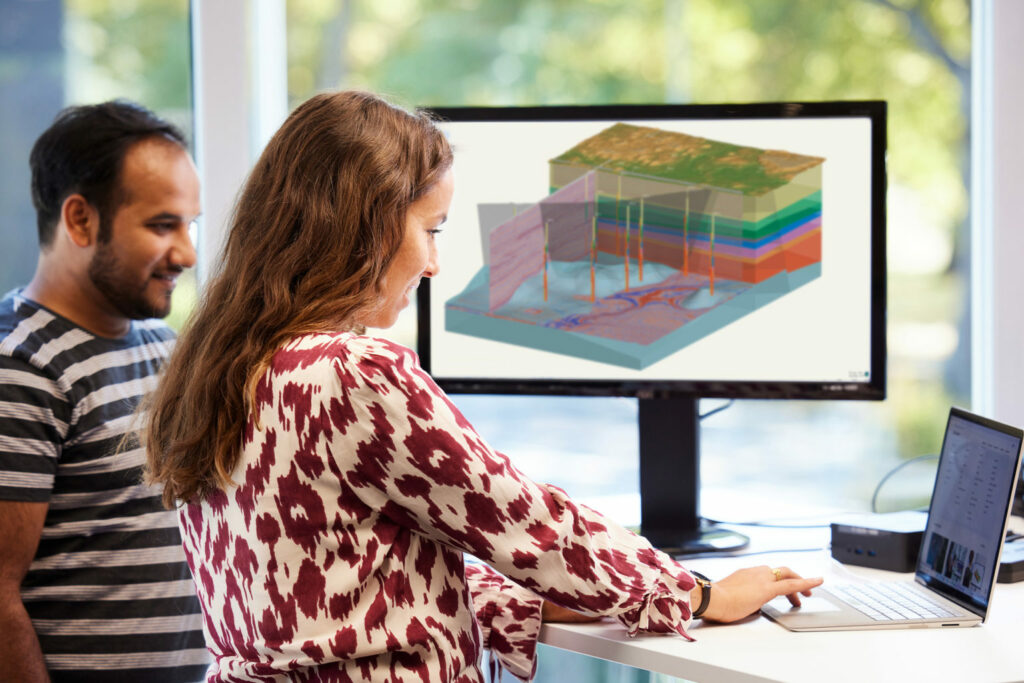 ---
Dedicare il tempo alle decisioni non all'elaborazione dei dati.
Costruire modelli concettuali dinamici che combinano geologia, geofisica e ingegneria dei giacimenti.

Le funzioni e i flussi di lavoro di Leapfrog Geothermal riuniscono i team e i dati con: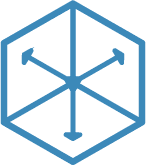 Geological modelling
Gain an in-depth 3D understanding of local geology to make decisions on well planning and optimisation.
Rapidly build complex geological models from wells, points, polylines, and meshes
Define a surface chronology to determine the stratigraphy of your reservoir as well as faults and complex fault systems
Model planar and volumetric surfaces, veins, and stratigraphic sequences
Dynamically update models when the base data are updated
Visualisation
Analyse your data and look for correlations and patterns with simple, intuitive visualisation tools. Share insights across disciplines and help non-technical stakeholders make more informed decisions using 2D and 3D models.
Visualise TOUGH2, TETRAD, MODFLOW, and FEFLOW flow model time-dependent data in 3D
Co-visualise multidisciplinary data including wells, geophysical data, geological, numeric, and flow simulation models
See inside your model by dynamically slicing through your models in 3D with control over transparency
Create dynamic cross-sections through key parts of your resource
Build a scene using multiple models to showcase relationships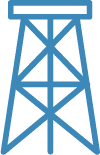 Well planning
Anticipate subsurface permeability and key reservoir conditions by testing and refining a 3D geological model.
Target wells in an interactive 3D environment
Plan well trajectory with multiple build and/or hold sections
Peer review and prognose models
Export planned trajectory and prognoses
Change the trajectory of wells in real-time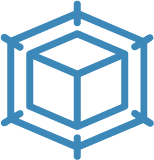 Flow Simulation
Create flow simulation models from your geological and numeric models quickly, export them for simulation runs, and then import the results back into Leapfrog Geothermal.
Easily build TOUGH2, MODFLOW, and FEFLOW models and keep them up-to-date
Import TOUGH2, TETRAD, MODFLOW, and FEFLOW models for visualisation of time-dependent results
Create TOUGH2 models with either structured or unstructured grids
Assign combined lithological and fault rock types to TOUGH2 models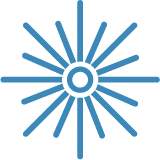 Numeric modelling
Easily build block models in 3D and keep them up-to-date.
Leapfrog Geothermal's powerful interpolation engine lets you easily build interpolants from wells and points.
Quickly visualise isosurfaces for parameters such as temperature, pressure, geophysics and geochemistry
Incorporate complex anisotropies
Build multi-domained numerical models
Export interpolant volumes, isosurfaces, and midpoints
Assign properties to blocks
Add on Leapfrog Edge to integrate geostatistical analysis into your geothermal workflow.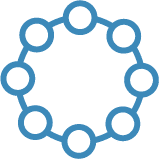 Create a continuous workflow between teams to build fast, rapid iterations of conceptual models.
Share your work with anyone in the organisation using cross sections, renders, scenes, and movies
Set up and save 3D scenes that illustrate important aspects of the model for use in reporting and annotate them with further information
Easily define cross sections, serial sections, and fence sections in the 3D scene

La tecnologia Seequent supporta l'interoperabilità
Seequent è un membro del Global Mining Guidelines Group, composto da rappresentanti di società di software e di estrazione mineraria che collaborano allo sviluppo dell'Open Mining Format (OMF), una specifica di file open-source per l'interoperabilità dei dati 3D.
---
Nuove caratteristiche in Leapfrog Geothermal 2022.1
This release of Leapfrog Geothermal brings a suite of developments across the board to user experience, science and algorithms, performance improvements and increased interoperability.
The latest version includes a reinvigoration of long-standing features such as the well correlation tool, with upgrades based on customer feedback and collaboration.
We're working to support and improve stakeholder communication, with the addition of contextual labels to block models and drillholes as well as enhanced layouts and views.
Continued developments include upgrades to existing libraries and restructuring project storage with significant improvements to storage and processing speed.
Once again, you can expect faster workflows with new options for easier interoperability between popular industry software solutions.
DRILLHOLE CORRELATION IMPROVEMENTS
Our popular drillhole correlation tool has seen major improvements to its interface to enhance its appearance and usability. Now you can add custom colourmaps and labels to numeric data, along with smart selection of which data values are visible, minimising unnecessary visual clutter.
VISUALISING BLOCK MODEL LABELS IN 2D
Expect significant improvements to Leapfrog's scene visualisation technology with two important enhancements to block models – a 2D slice mode and the ability to have multiple display labels of blocks.
Blocks can be filled or have an outline, have one or many labels with independent colourmaps and a fixed-sized (and in some cases scaled) gap set to visually separate adjacent blocks.
These features are available for Block models and Octree block models, but not sub-blocked models.
This feature is only available for Leapfrog Works users with Contaminants Extension.
ADD PLAN VIEW & MASTER LAYOUT TO SECTIONS
We've made improvements based on customer feedback to improve workflows involving several serial sections, as well as stand-alone cross-sections.
Now you can create a higher-level template layout that can be applied to all child layouts from the various section types.
In addition, a new 'Plan View' is now available for sections; enabling you to access and share site maps to illustrate how they relate to other elements of a site and set the context for the section to be interpreted.
These enhancements give you the ability to complete more of your workflows within Leapfrog. Save time previously spent creating site maps in alternative programs, with added capability for data sharing with external stakeholders.
MODFLOW: 2.5D USG SUPPORT
Introducing a new, intuitive and interactive way to create quality 2.5D unstructured MODFLOW grids. Now you can define boundary conditions based on features within the model (boreholes/wells, rivers, faults) and either 2D unstructured, layered grids or fully unstructured grids.
We've built deeper interoperability into this release, with new ways to share and consume data between packages, bringing further workflow enhancements.
This feature is only available for Leapfrog Geo users with Hydrogeology Extension.
TOUGH – SUPPORT FOR DUAL POROSITY USING MINC
Geothermal now supports dual porosity for TOUGH models using the MINC method, enabling you to better handle thin fractures.
With the addition of two sets of co-located grid blocks, one for the matrix and another for the fracture, you now have the capability to create more accurate models.
Other improvements to Leapfrog include;
Enforced Project Backup and Improved Compression
Improved Scene Details Panel
GIS Draping Behaviour
Multiple Deviation Hole Improvements
Geological Model Improvements
Block Models on Sections, and much more.
---
Requisiti di sistema di Leapfrog Geothermal
We recommend you use Windows 10, with a reasonably fast processor, mid range graphics and 32GB of system memory.