Optimized Tools for Performance-Driven, Cross-Architecture Applications and Powerful Libraries for High-Fidelity Rendering and Visualization
Adalta è Unico Elite Reseller Italiano di Intel Software oneAPI Base & Rendering Toolkit. Richiesta quotazione…
Intel oneAPI Base & Rendering Toolkit
The Intel oneAPI Base & Rendering Toolkit delivers what you need to create high-performance, high-fidelity visual experiences. It is a combination of two toolkits

Intel® oneAPI Base Toolkit
Includes a core set of tools and libraries to build and deploy data-centric applications across architectures.
It features Data Parallel C++ (DPC++) language, domain-specific libraries, and enhanced profiling, design, and debug tools.
Intel® oneAPI Rendering Toolkit
Get five powerful rendering and ray tracing libraries for creating photorealistic visuals—from studio animation to scientific and industrial visualizations.
These award-winning tools are integrated into many professional content-creation tools, including V-Ray* and Corona* Renderer (Chaos Group), ParaView* (Kitware), Cinema 4D* (Maxon), AutoCAD*, 3ds Max*, Revit* (Autodesk), and Moonray Renderer (Dreamworks).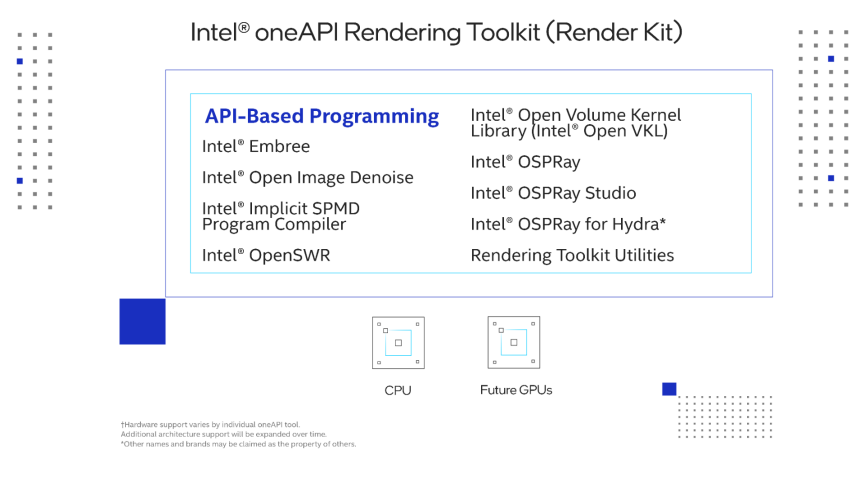 Vantaggi
Priority Support is paid product support that covers all of the components included in the toolkit. It provides the following benefits for one year:
Direct and private interaction with Intel's support engineers, including the ability to submit confidential support requests
Accelerated response time for technical questions and other product needs
Priority assistance for escalated defects and feature requests
Free download access to all new product updates and continued access to older versions of the product
Access to a vast libraryof self-help documentation built from decades of experience with creating high-performance code
Access to Intel public community forums supported by community technical experts and monitored by Intel engineers
On-site or online training and consultation by Intel technical consulting engineers may be added at an additional cost.
---
Nuove caratteristiche Intel oneAPI Base & Rendering Toolkit
Scopri tutte le novità dell'ultima versione sul sito Intel:
---
Cosa contiene Intel oneAPI Base & Rendering Toolkit
Intel® Embree
Improve the performance of photo-realistic rendering applications with this library of ray-tracing kernels. The kernels are optimized for the latest Intel® processors with support for Intel® Streaming SIMD Extensions [4.2] through to the latest Intel® Advanced Vector Extensions 512.
Intel® Implicit SPMD Program Compiler (Intel® ISPC)
Compile using a variant of the C programming language with extensions for SPMD programming for fastest rendering performance.
Intel® Open Image Denoise
Increase image quality with machine learning algorithms that selectively filter visual noise. This independent component can be used for noise reduction on 3D rendered images, with or without Intel® Embree.
Intel® OpenSWR
Use this software rasterizer that's compatible with OpenGL* to work with datasets when GPU hardware isn't available or is limiting. This CPU-based product runs on laptops, workstations, and compute nodes in high-performance computing (HPC) systems.
Note Intel® OpenSWR is available as part of the Mesa OpenGL open source community project at www.mesa3d.org.
Intel® Open Volume Kernel Library (Intel® Open VKL)
Enable rendering and simulation processing of 3D spatial data with low-level volumetric data-processing algorithms.
Intel® OSPRay
Develop interactive, high-fidelity visualization applications using this rendering API and ray tracing engine.
Intel® OSPRay for Hydra* (Open Source GitHub*)
Connect the Render Kit libraries in your application to the universal scene description (USD) Hydra rendering subsystem by using the Intel® OSPRay for Hydra* plug-in. This plug-in enables fast preview exploration for compositing and animation, as well as high-quality, physically based photorealistic rendering of USD content.
Intel® OSPRay Studio
Perform high-fidelity, ray traced, interactive, and real-time rendering through a graphical user interface with this new scene graph application addition to Intel OSPRay.
Intel® Open Path Guiding Library (Intel® Open PGL)
Increase rendering performance by improving the sampling quality of complex light transport effects. Facilitate state-of-the-art path-guiding algorithms into your renderer.
Rendering Toolkit Utilities
The included Render Kit Superbuild utility automatically downloads the Render Kit source code, Intel® oneAPI Threading Building Blocks (oneTBB) binaries, Intel® Implicit SPMD Program Compiler (Intel® ISPC) binaries, and build binaries for each component.
---
Supporto
Your success is our success. Access these support resources when you need assistance.
Priority Support
Register your product, submit a request, and more.
Support
Customers currently using Intel® Parallel Studio XE (Composer, Professional, or Cluster Editions) and who are on active software support will continue to receive support through the term of the active support period.

Support will apply to the Intel® oneAPI Base & HPC Toolkit that will be provided as the next generation of the Intel® Parallel Studio XE suite of tools.

Available versions of Intel® Parallel Studio XE entitled to you will remain available in your account on the Intel Registration Center.
Software Updates
All software updates and latest versions for Intel® Parallel Studio XE tools will be delivered in the Intel® oneAPI Base & HPC Toolkit.

Customers on active software support will be able to upgrade to the Intel® oneAPI Base & HPC Toolkit by signing into the Intel Registration Center and accepting the upgrade. You will receive an email that explains these changes and a link to the Intel Registration Center to upgrade.

Support will continue through the term of the current active support period for the Intel® oneAPI Base & HPC Toolkit.
Licensing
Existing software license files continue to be available in the Intel Registration Center and enable your use of Intel® Software Product versions you are entitled to.

The Intel® oneAPI Toolkits do not require license files, and the terms of use are based on the purchased product with support and End User License Agreement.