Optimized Tools for Performance-Driven, Cross-Architecture Applications and Powerful Libraries for High-Fidelity Rendering and Visualization
Adalta è Unico Elite Reseller Italiano di Intel Software oneAPI Base & Rendering Toolkit. Richiesta quotazione…
Intel oneAPI Base & Rendering Toolkit
The Intel oneAPI Base & Rendering Toolkit delivers what you need to create high-performance, high-fidelity visual experiences. It is a combination of two toolkits

Intel® oneAPI Base Toolkit
Includes a core set of tools and libraries to build and deploy data-centric applications across architectures.
It features Data Parallel C++ (DPC++) language, domain-specific libraries, and enhanced profiling, design, and debug tools.
Intel® oneAPI Rendering Toolkit
Get five powerful rendering and ray tracing libraries for creating photorealistic visuals—from studio animation to scientific and industrial visualizations.
These award-winning tools are integrated into many professional content-creation tools, including V-Ray* and Corona* Renderer (Chaos Group), ParaView* (Kitware), Cinema 4D* (Maxon), AutoCAD*, 3ds Max*, Revit* (Autodesk), and Moonray Renderer (Dreamworks).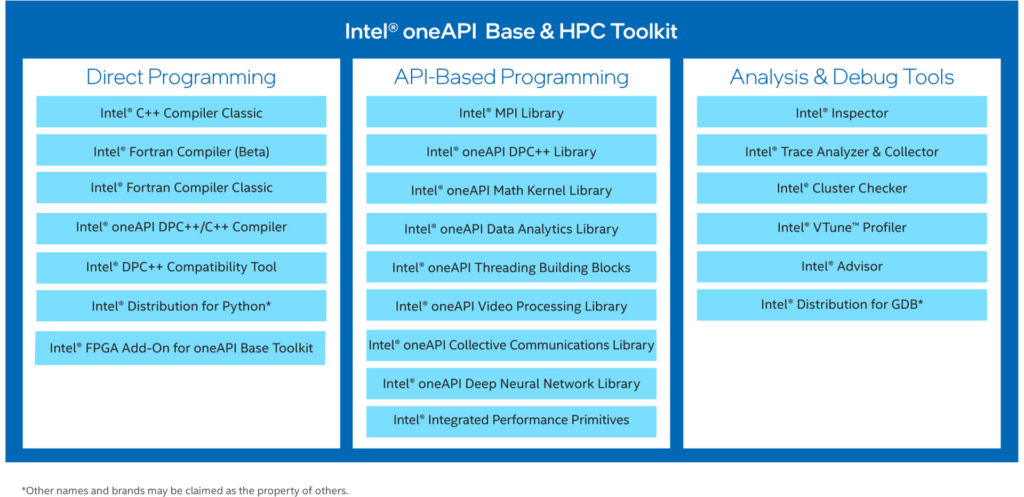 Benefits
Priority Support is paid product support that covers all of the components included in the toolkit. It provides the following benefits for one year:
Direct and private interaction with Intel's support engineers, including the ability to submit confidential support requests
Accelerated response time for technical questions and other product needs
Priority assistance for escalated defects and feature requests
Free download access to all new product updates and continued access to older versions of the product
Access to a vast libraryof self-help documentation built from decades of experience with creating high-performance code
Access to Intel public community forums supported by community technical experts and monitored by Intel engineers
On-site or online training and consultation by Intel technical consulting engineers may be added at an additional cost.
---
What's Inside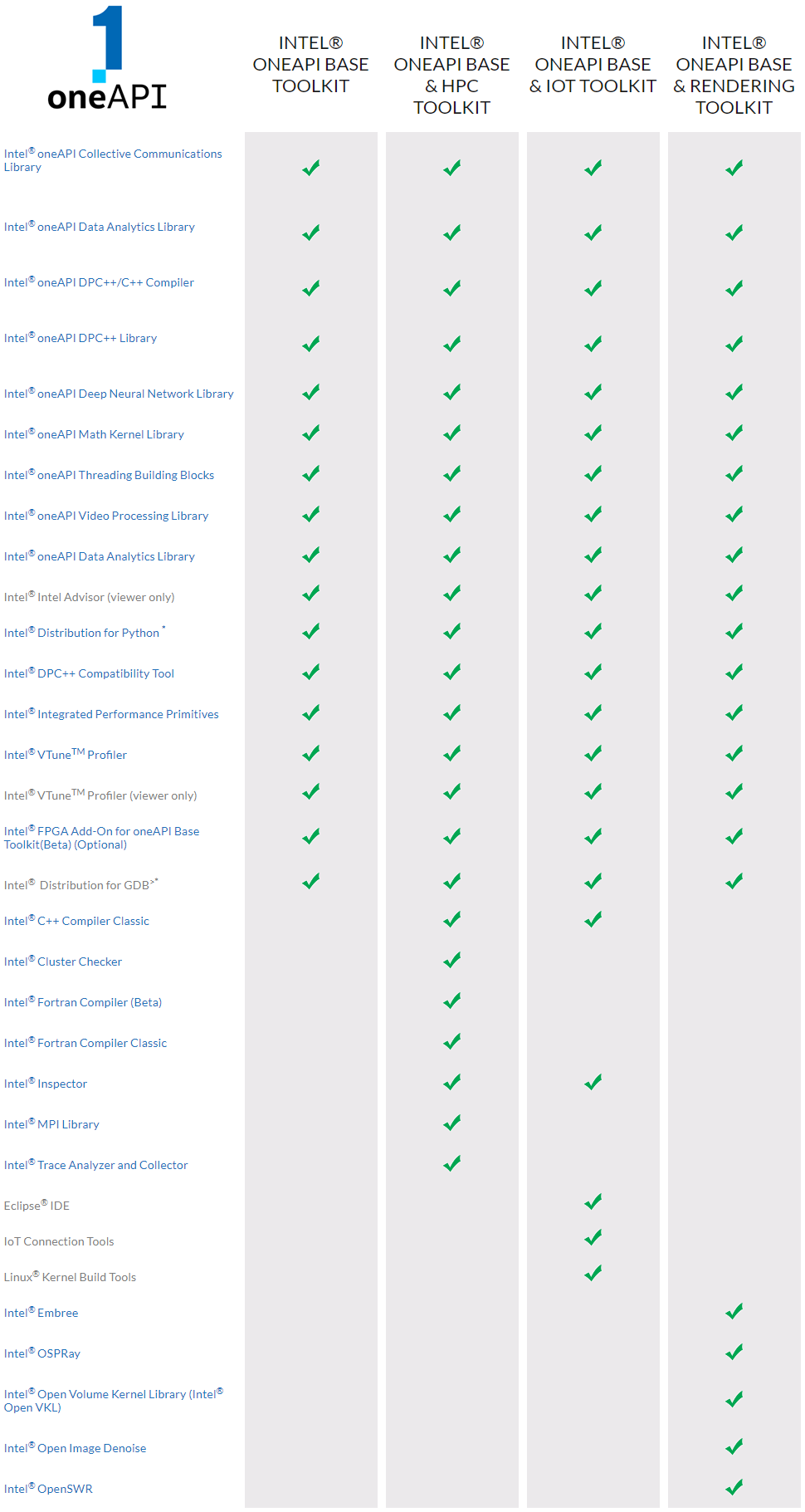 ---
Support
Your success is our success. Access these support resources when you need assistance.
Priority Support
Register your product, submit a request, and more.
Support
Customers currently using Intel® Parallel Studio XE (Composer, Professional, or Cluster Editions) and who are on active software support will continue to receive support through the term of the active support period.

Support will apply to the Intel® oneAPI Base & HPC Toolkit that will be provided as the next generation of the Intel® Parallel Studio XE suite of tools.

Available versions of Intel® Parallel Studio XE entitled to you will remain available in your account on the Intel Registration Center.
Software Updates
All software updates and latest versions for Intel® Parallel Studio XE tools will be delivered in the Intel® oneAPI Base & HPC Toolkit.

Customers on active software support will be able to upgrade to the Intel® oneAPI Base & HPC Toolkit by signing into the Intel Registration Center and accepting the upgrade. You will receive an email that explains these changes and a link to the Intel Registration Center to upgrade.

Support will continue through the term of the current active support period for the Intel® oneAPI Base & HPC Toolkit.
Licensing
Existing software license files continue to be available in the Intel Registration Center and enable your use of Intel® Software Product versions you are entitled to.

The Intel® oneAPI Toolkits do not require license files, and the terms of use are based on the purchased product with support and End User License Agreement.