The Professional Application Delivery System
Wolfram Player Pro is the professional platform for running interactive applications based on Wolfram technology. Used as a high-level engine by application developers, Player Pro provides the power of Mathematica for a fraction of the cost.
Adalta è Rivenditore Unico per l'Italia di Wolfram Player Pro. Richiesta quotazione…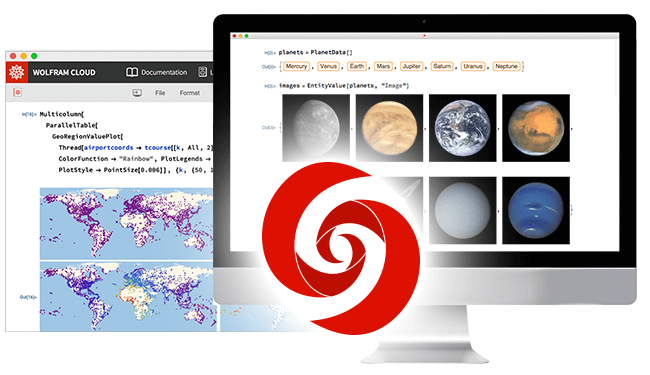 ---
Overview
Based on the Latest Wolfram Technologies
Wolfram Player Pro supports almost all the functionality of the Wolfram Language, giving users easy and cost-effective access to your applications and interactive documents.
Install Player (free) to:
View and interact with Wolfram Notebooks.
Engage with live, interactive Wolfram Language examples,
reports and files powered by real-time computation
Explore thousands of free applications from the Wolfram Demonstrations Project
and other open-source resources
Wolfram Player for iOS
Harness the Power of CDF on iOS
Interact with Wolfram Notebooks and the Computable Document Format (CDF) on the go with the Wolfram Player app. Use a tactile and responsive interface to play notebooks and visualize models locally on your iPhone or iPad.

This application features sideloading—pulling in notebooks from a variety of sources, whether from the Wolfram Cloud, email, Dropbox, Files, iTunes or elsewhere. Notebooks are computation-powered knowledge containers—as everyday as a document, but as interactive as an app. Now you can share your ideas with the rest of the world anytime, anywhere.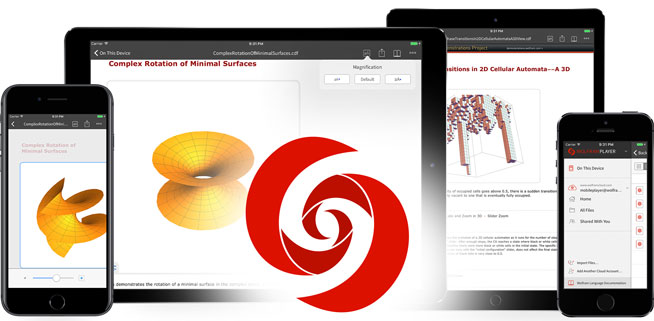 ---
Licensing Options
Wolfram Player Pro's wide range of commercial licensing options complement Wolfram's unique technologies for rapid commercial-application development and publishing.
Whether your project is for a single user or mass distribution, in-house or external use, custom-tailored or off-the-shelf production, our options for deploying Wolfram Notebooks will meet your needs.
Small Deployments (up to 25 users)
Creating on-the-fly interactive solutions for your group? Deploying your consulting solutions? A Player Pro engine makes it easy and cost effective to produce applications for a small number of users.
Medium to Large Deployments (over 25 Users)
Wolfram technology is being used as the base for large-scale deployment of applications, services and OEM bundling. Options include custom consulting for Wolfram Player deployment, volume and site plans for Player Pro, or upfront Player Pro purchasing for developers.
Because of the range of possible products, licensing options and uses, please tell us more about your intended application so we can help structure the best plan for you.
---
FAQ
Using Wolfram Player Pro

Can I use documents intended for Wolfram Player in Player Pro?
Yes. Player Pro provides full support for viewing and interacting with .nb and legacy .cdf files. Notebooks saved normally in Mathematica or other Wolfram Language environments have the file extension .nb and can be accessed and edited on the desktop and on mobile and cloud devices. Notebooks saved as legacy .cdf files are interactive in the free Player as well as in Player Pro. Additional features such as data import or text input may be available in legacy .cdf files running in Player Pro.
Is there an upgrade path from Player Pro to Mathematica and other Wolfram Language-based products?
Yes. Contact us for more information.
Can I purchase Player Pro on behalf of my users and then supply it with my application?
Yes. There are a number of options that will allow you to distribute Player Pro and manage your customer licenses. Volume discounts are available. For more information, visit our licensing page.
Can I create new content using Player Pro?
No. If you're making new content, you need Mathematica or other Wolfram Language-based products.
Can I export my work using Player Pro?
Yes. Player Pro can export notebooks in a variety of formats and for a variety of applications. In addition, applications can be written to dynamically export user data while running in Player Pro.
Is Player Pro available for iPad?
Wolfram Player is available for iPad.
Is Player Pro available for other mobile devices?
We are actively pursuing solutions for all mobile devices. The Wolfram Cloud app lets you view and interact with your deployments on the go, and Wolfram Player will also be available for iPhone soon. Contact us for more details.
What's the difference between .cdf and .nb files?
Wolfram notebooks saved as .nb files are viewable but not interactive in Player. Computable Document Format (CDF) is a legacy document type. Notebooks saved or exported as legacy .cdf files make content interactive in Player and Player Pro.
What's the difference between Wolfram Player Pro and Wolfram Player?
Both Player Pro and Player are standalone runtimes for interactive .nb and legacy .cdf files and applications, but Player Pro supports extra features such as data import and text input.
Developing for Player Pro
Can I make a commercial product powered by Player Pro?
Yes. Visit our licensing page or contact us about other options.
If my program was developed with an InputField, what kind of data can be entered when it's running in Player Pro?
Player Pro accepts numerical, textual and symbolic entries. Input fields will not accept Wolfram Language programs.
What's the process for making my notebooks interactive for Player Pro users?
Just save them normally as notebooks or other Wolfram Language-based products. Content that is dynamically interactive in Mathematica will also be interactive in Player Pro, with a few exclusions. See the developer guidelines for details.
Can I encrypt source code?
Yes, source code can be encrypted. For additional information, view the developer guidelines or watch this screencast.