Approfondite la conoscenza dei vostri dati.
Grapher è un ottimo software tecnico di grafica scientifica per chiunque abbia necessità di creare grafici di grande qualità velocemente e facilmente.
Con Grapher si può scegliere tra 80 formati di grafici diversi: linear o logarithmic line, scatter, bar charts, histograms e 2D o 3D, ecc. Tra i grafici disponibili troviamo grafici specialistici inclusi ternary, box-whisker, bubble plots, pie charts e hi-low-close plots.

I grafici possono essere personalizzati a proprio piacimento aggiungendo legende, analisi delle curve, testi e oggetti disegnati.
Adalta è Rivenditore Ufficiale e Importatore Diretto per l'Italia di Golden Grapher. Richiesta quotazione…
---
A cosa serve Grapher?
Visualizzare i dati
Presentate i vostri dati al meglio. Grapher offre strumenti grafici di alta qualità per ottenere il massimo dai vostri dati. Grapher offre oltre 80 diverse opzioni di grafici 2D e 3D per adattarsi a diversi settori, dalla geologia e idrologia al lavoro ambientale e all'edilizia.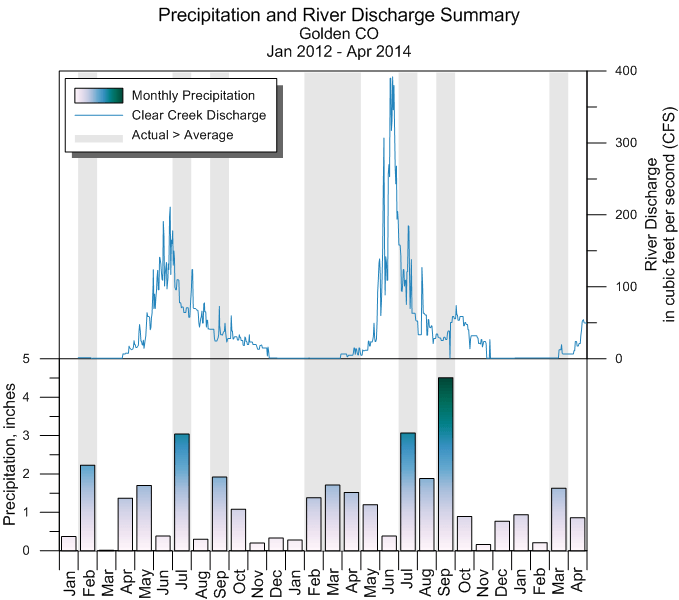 Analizzare i dati
Non perdete nessuna opportunità. Che siate ingegneri, ricercatori o geologi, i vostri dati potrebbero nascondere informazioni preziose. Utilizzate gli ampi grafici di analisi, gli strumenti e le funzioni statistiche di Grapher per identificare le tendenze, trovare nuove intuizioni e individuare le opportunità. Grapher offre una visione olistica dei vostri dati.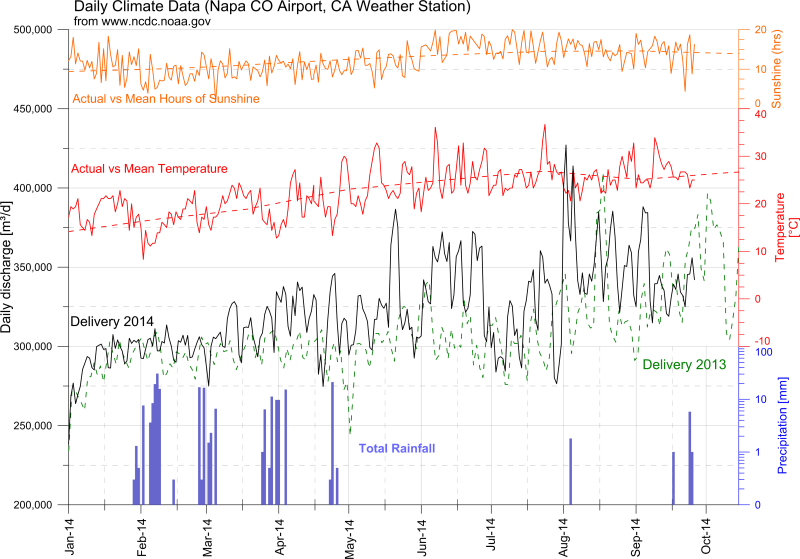 Comunicare i risultati
L'ampia selezione di tipi di grafici e le innumerevoli opzioni di personalizzazione di Grapher vi consentono di comunicare idee complesse in un formato facilmente comprensibile per il vostro pubblico, sia che si tratti di un ambiente di ricerca o di formazione, sia che si tratti di colleghi del settore. Lasciate che siano i dati a parlare con Grapher.
Soluzione affidabile
Grapher è apprezzato da migliaia di scienziati, ingegneri e professionisti del settore in tutto il mondo. Provate voi stessi Grapher e scoprite perché così tante persone si affidano a Grapher per la visualizzazione dei loro dati.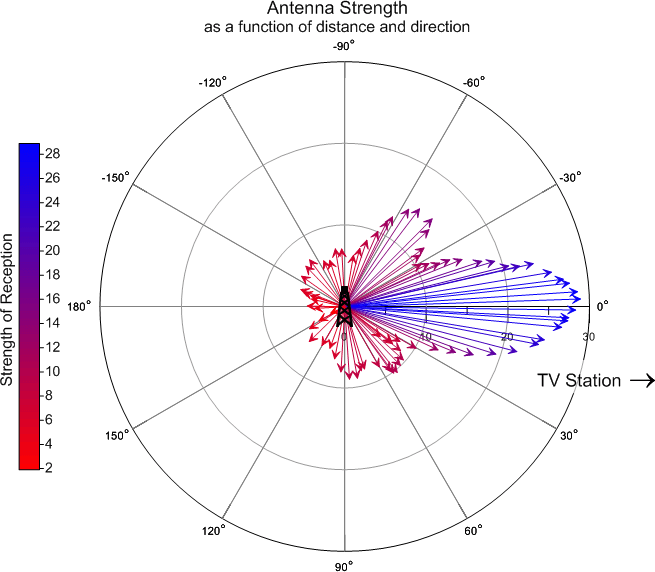 ---
Caratteristiche generali di Grapher
Creare grafici professionali
Create rapidamente grafici 2D e 3D meravigliosi e ricchi di informazioni. Scegliete tra oltre 70 tipi di grafici diversi e comunicate il vostro messaggio a qualsiasi pubblico con le ampie capacità di Grapher.
Tipi di grafici disponibili in Grapher
Basic Plots
Bar Plots
Polar Plots
Ternary Plots
Specialty Plots
Statistical Plots
Contour Surface Maps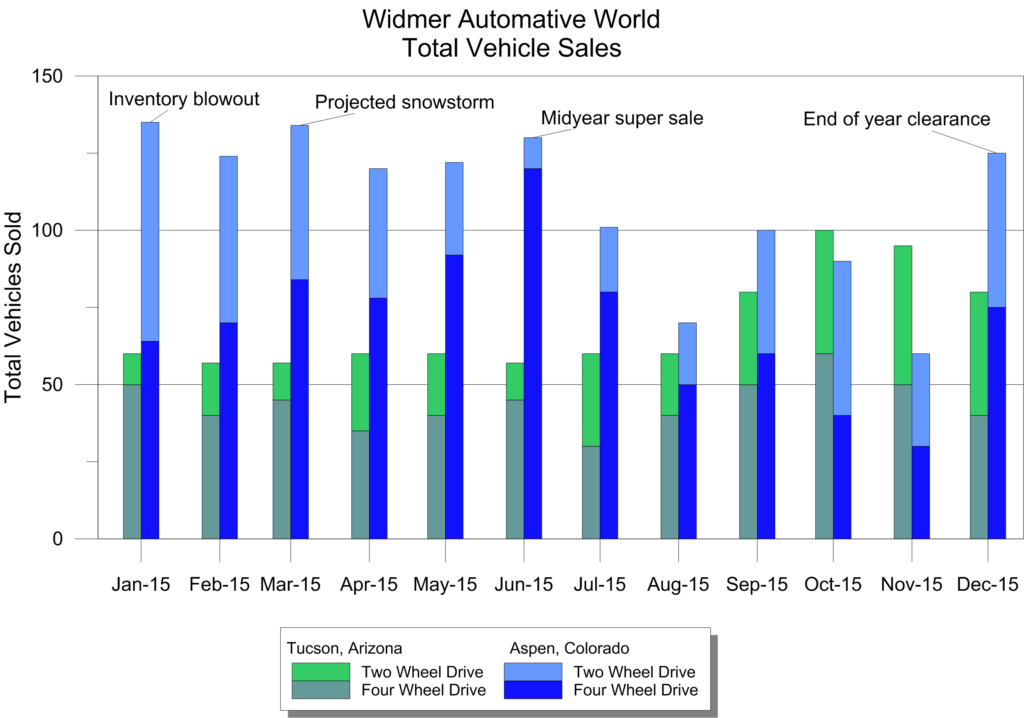 Rappresentare i dati al meglio
Controllate ogni aspetto della vostra trama fin nei minimi dettagli. Le ampie opzioni di personalizzazione di Grapher consentono di trasmettere idee complesse in modo facile da capire. Se lavorate nel campo dell'idrologia, della geologia, dell'edilizia o dell'industria ambientale, Grapher visualizza i vostri dati al meglio.
Opzioni di personalizzazione in Grapher
Add legends, titles, and axes
Include inset zoom or graph magnifier
Edit all axis parameters, multiple axes
Format axis scales as linear, logarithmic, natural logarithmic, probability, or date/time
Combine multiple graphs
Add fit curves, error bars, and statistical reports
Easily filter data in and out of your plots
Place every graph component in a precise location
Define custom line styles, colors, and fills
Edit text, line, fill and symbol properties
Add text, polylines, polygons, symbols, and spline polylines
Many more…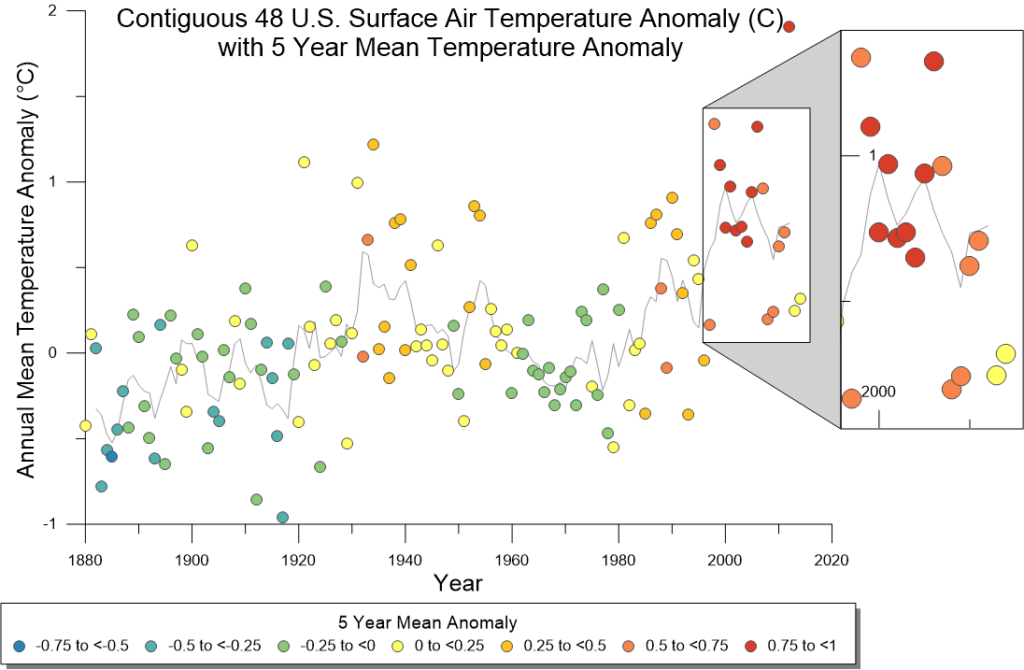 Ottenere approfondimenti
Ingegneri, ricercatori, geologi e altri possono prendere decisioni informate con Grapher. Scoprite nuove opportunità e tendenze nascoste nei vostri dati con gli strumenti statistici di Grapher. Aggiungete curve di adattamento personalizzate o predefinite, barre di errore o calcolate statistiche sui dati grezzi per comprendere a fondo la tendenza di fondo.
Strumenti Statistici in Grapher
Insert custom or pre-defined fit curves
Apply confidence intervals
Include error bars
Perform statistical calculations on the raw data
Display statistical reports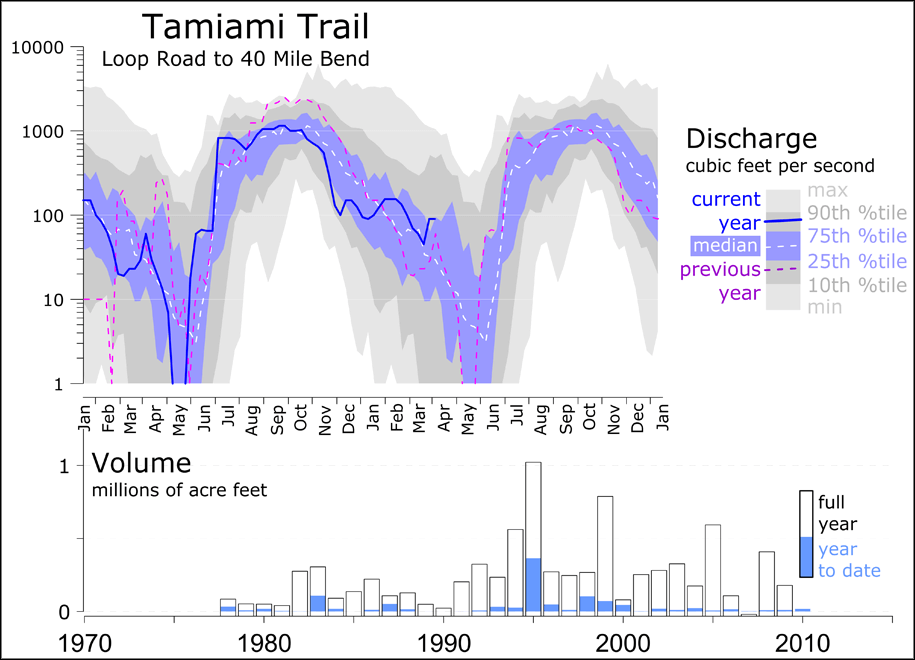 Collaborazione sicura
Condividete rapidamente i vostri grafici con colleghi, stakeholder e clienti, oppure con il pubblico in contesti educativi o di ricerca. Preparate i vostri grafici per le pubblicazioni stampate esportandoli in formati di alta qualità come PDF o TIFF, oppure condividete il vostro lavoro online esportandolo in formato PNG o SVG. In alternativa, Grapher consente di inserire facilmente i diagrammi in strumenti di presentazione come Microsoft Word o PowerPoint con un semplice copia e incolla.
Flussi di lavoro semplificati
Per essere operativi bastano pochi minuti. L'interfaccia utente di Grapher è stata progettata per eliminare le incertezze legate all'apprendimento di un nuovo programma. Abbiamo lavorato duramente per semplificare i flussi di lavoro in modo che non dobbiate farlo voi.
Caratteristiche dell'interfaccia utente di Grapher
Single window to view, edit, and manipulate the data and charts
Object manager to easily manage graphs, axes, and other objects
Property manager for easy access to plot properties
Worksheet window to quickly view or edit raw data
Dock or float all managers
Customize ribbon bar layout
Welcome dialog to get you started
Graph Wizard to guide you through the graph creation process
Customize the user interface to fit your needs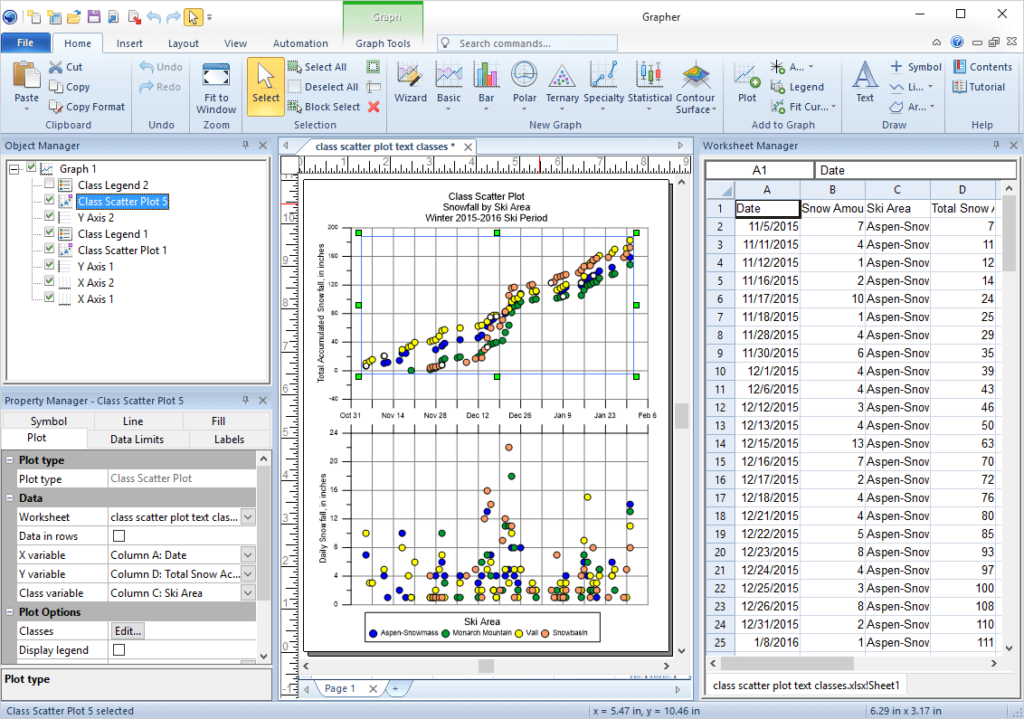 "Work Smart, Not Hard" grazie all'automazione
Non perdete tempo a eseguire sempre lo stesso processo. Create script per automatizzare le attività ripetitive ed eseguite i vostri script preferiti direttamente dalla barra multifunzione di Grapher. Grapher può essere richiamato da qualsiasi linguaggio di programmazione compatibile con l'automazione, come C++, Python o Perl. Grapher viene fornito anche con Scripter, uno strumento di scripting integrato compatibile con Visual Basic. Inoltre, è possibile utilizzare il registratore di script per trasformare le azioni eseguite in Grapher in uno script.
Risparmiate tempo con l'automazione e risparmiate ancora di più esaminando l'ampia serie di script di esempio contenuti nel Grapher Automation Knowledge Base!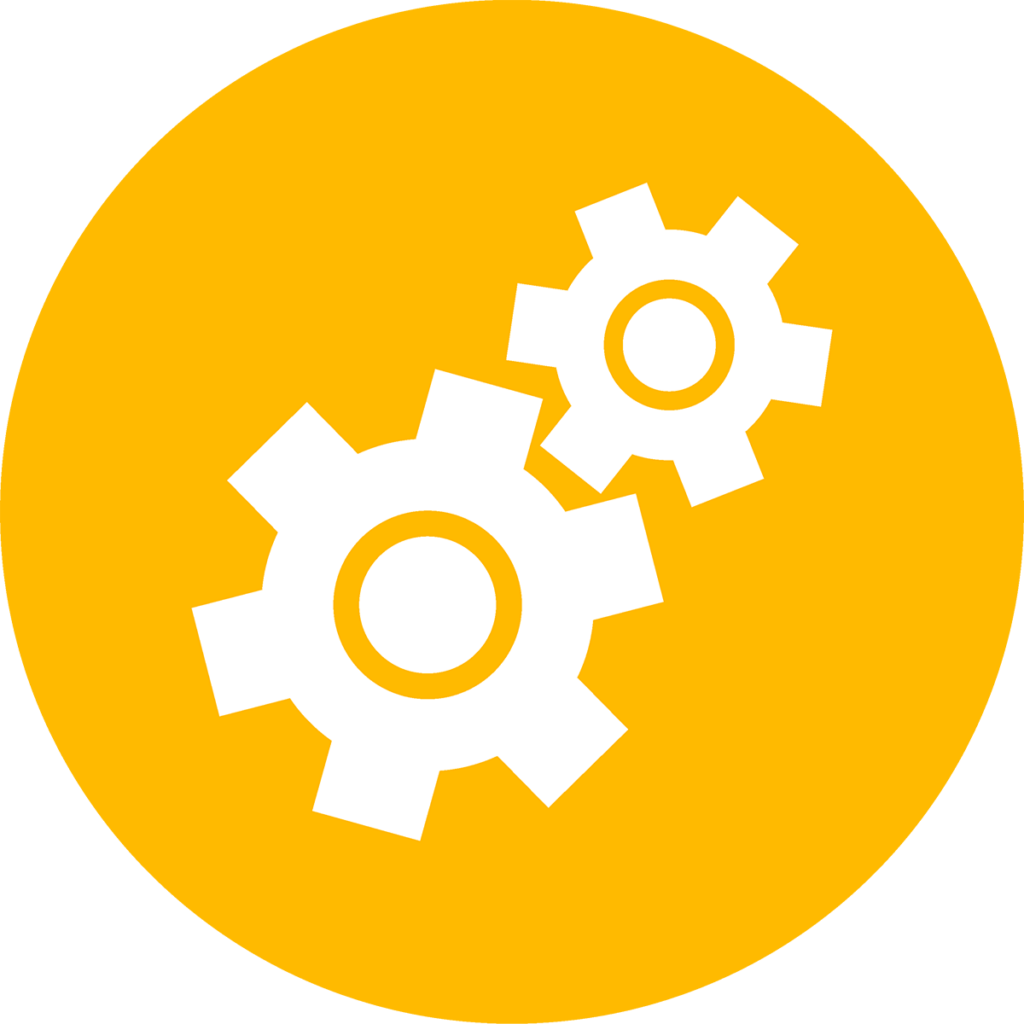 ---
Cosa c'è di nuovo in Grapher 21?
Ci sono molte nuove funzioni interessanti in Grapher! Sappiamo che, anche se i grafici sono la parte più divertente della giornata, è necessario trasformare i dati in una storia comprensibile a tutti. Per questo motivo, in questa versione ci siamo concentrati su di voi e sulle vostre richieste!

In particolare questa versione introduce un modo di lavorare con i grafici e i dati migliorato e più veloce, la nuova Graph Gallery e Plot Previews e la connessione dai fogli di lavoro esistenti a nuove fonti di dati.

Le principali novità sono elencate di seguito.
A more complete list of the new features can be found here:
See how to get the latest version here:
Top Features in Grapher's Latest Release
Viewing and working with projects and data
1. Graph Gallery
Grapher is first and foremost a visual communication tool; but selecting what you want to work with from a long list of file names doesn't really show what you're looking for. The new Graph Gallery allows users to search and filter compact views of plots without needing to open the full projects files.
You can also build custom sample galleries from your own projects and use these as templates for future work or share with colleagues.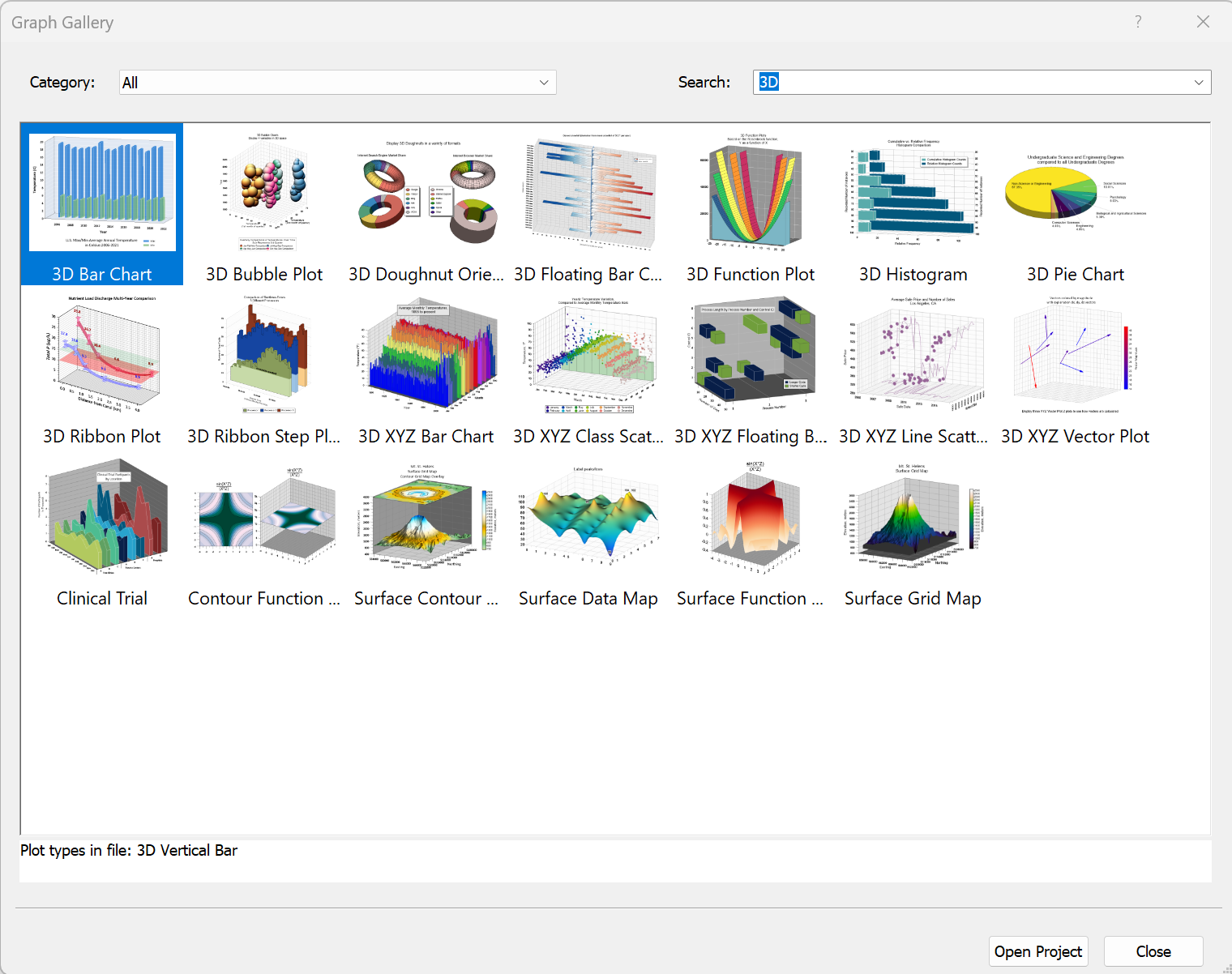 Visually search, sort and filter through compact views of sample plots to discover possibilities within Grapher.


2. Plot Previews and Print Preview
Plot previews are now available in Windows Explorer. Turn on the Preview pane in Windows Explorer to see previews of your GRF, GPJ and GRT files.
Print previews are also now available. See exactly what you'll print, before you print it! A new "View" print method also lets you print only what is displayed on the screen; handy for printing specific, zoomed-in portions of a plot.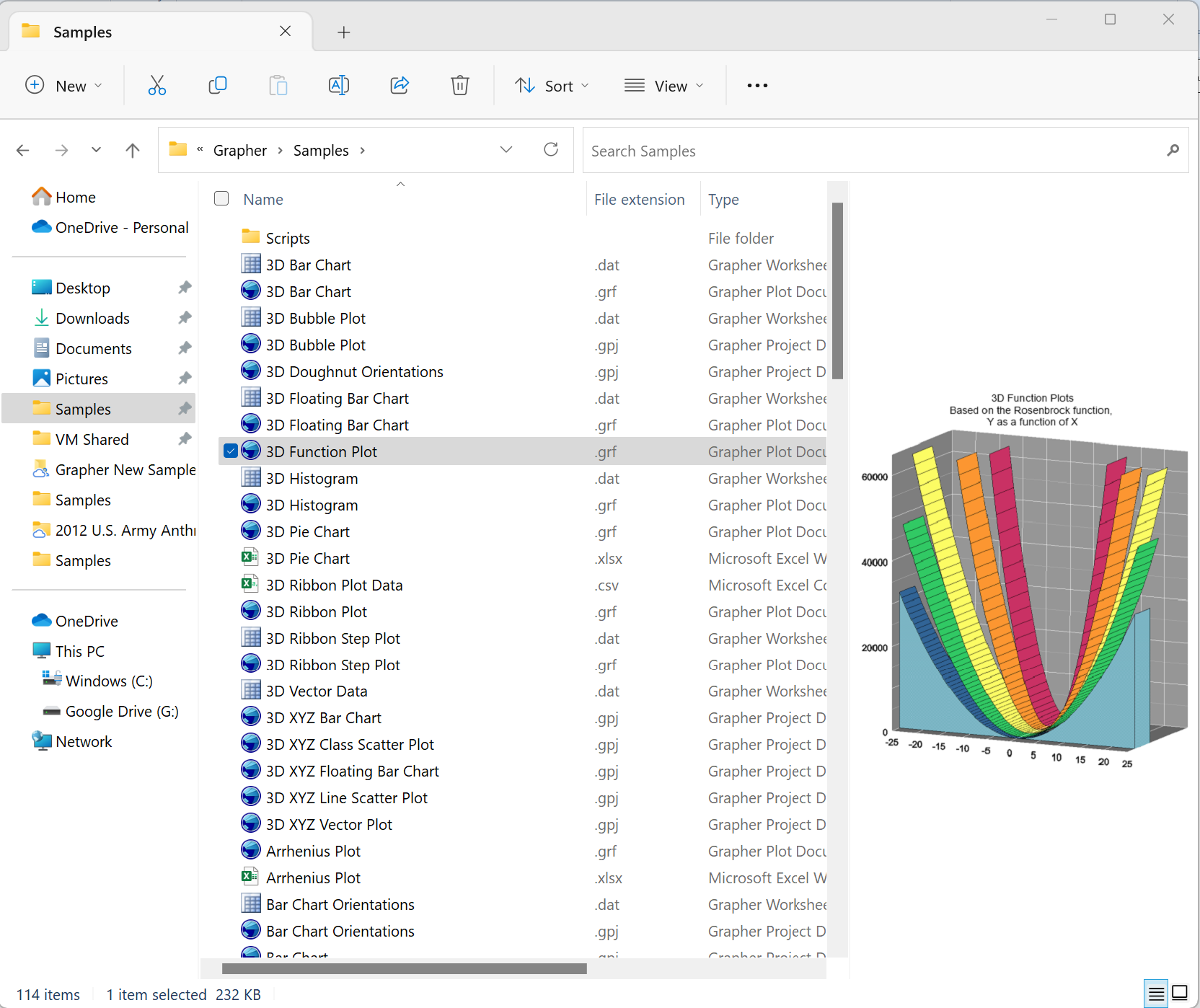 Preview pane in Windows Explorer shows previews for GRF, GPJ and GRT files.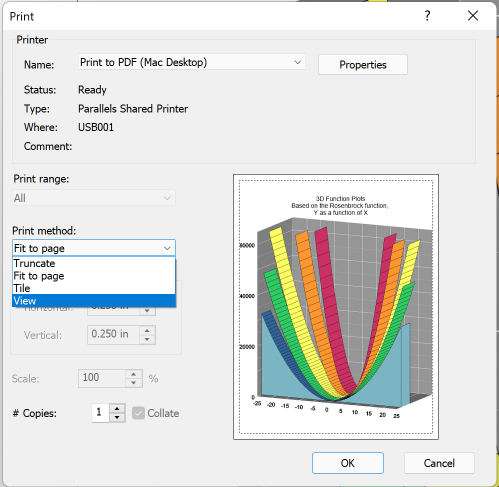 Print Preview option using the new 'View' method


3. Thinned Plot
Customizing the design of a plot can take a lot of time when working with large datasets. The new Thinned Plot command under Graph Tools lets you reduce, or "thin" the data shown in a plot; dramatically reducing the amount of time spent editing, formatting, moving and resizing the plot. Once you're happy with the design, turn off Thinned Plot and the plot will be drawn with the full set of data.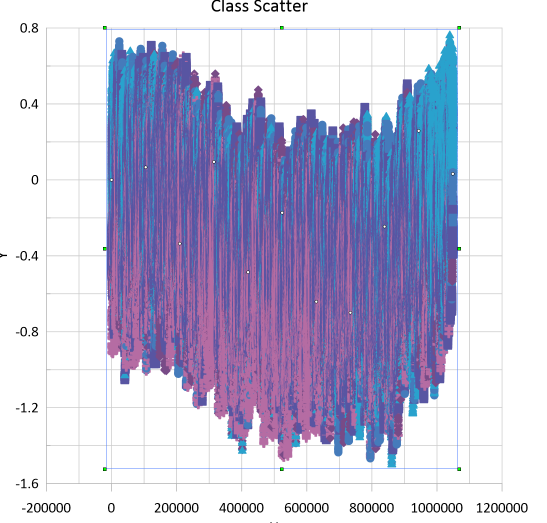 Original dataset of 1 million records.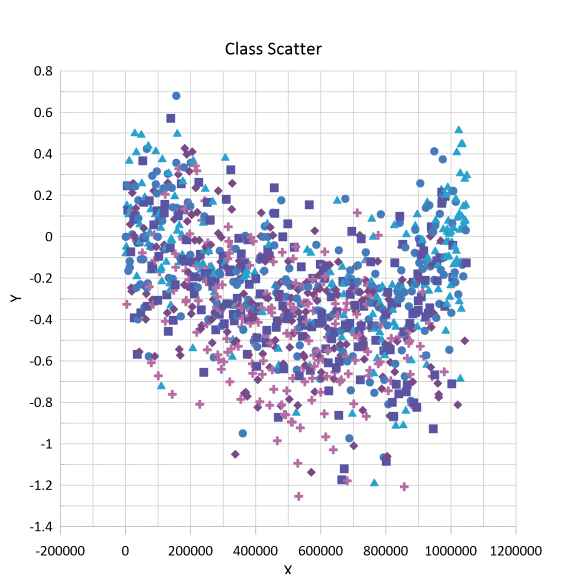 Thinned Plot applied to the dataset of 1 million records.


4. Worksheet Remapping
Users often work with different versions of data that are in the same format. For example, streamflow data for a different time period; but the new data is still formatted exactly the same as an earlier version. The new "Remap Worksheets" command allows users to navigate to new/update data sources and assign them to an existing worksheet.
When a new file is linked all associated objects (plots, axis, text, etc.) are automatically updated using the new data.
General Improvements
5. Cleaned up Home tab
Grapher's Home tab was getting a little messy so we've cleaned things up a bit. The 'Add to Graph' section has also been removed since same tools are already available under Graph Tools.
6. Graph type groupings
The graph types have been put into more sensible groups. You can now also quickly select recently used plots.
7. Graph Wizard improvements
It's now much easier to browse and select the data source and to preview the selected plot type before it is generated.
8. And more…
The Graph Tools tab is now always visible.
Defined Custom Fit/Define Fit Equation dialog has been improved.
Auto Redraw behavior is now consistent with the same setting in Surfer
Page tabs within a project can now be re-ordered.
Ability to rename bar/histogram groups.
---
The new Data Filter replaces the current Criteria Filter in Grapher, and offers a lot more flexibility and functionality. Users can:
Apply multiple inclusion or exclusion filters
Work with multiple filters on different columns of data, or all data
Use comparison and boolean operators
Use built-in mathematical functions
Use the Data Filter on all plot types that use data files as input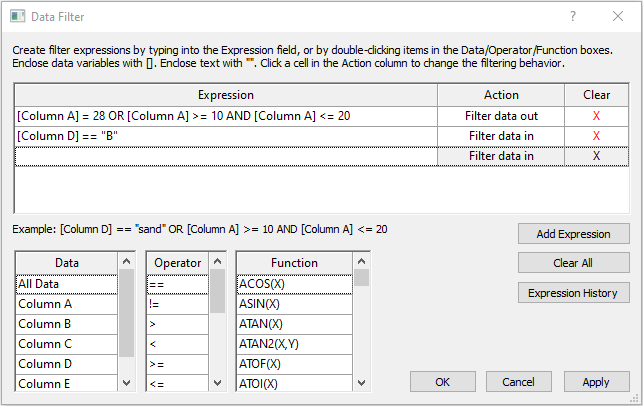 This new feature allows you to easily offset any overlapping labels in your plot – it can even be used on multiple plots at once. This is a big time saver if you frequently work with clustered or dense data. After the plot labels are dispersed, you can still fine-tune individual label positions with manual click-and-drag editing options.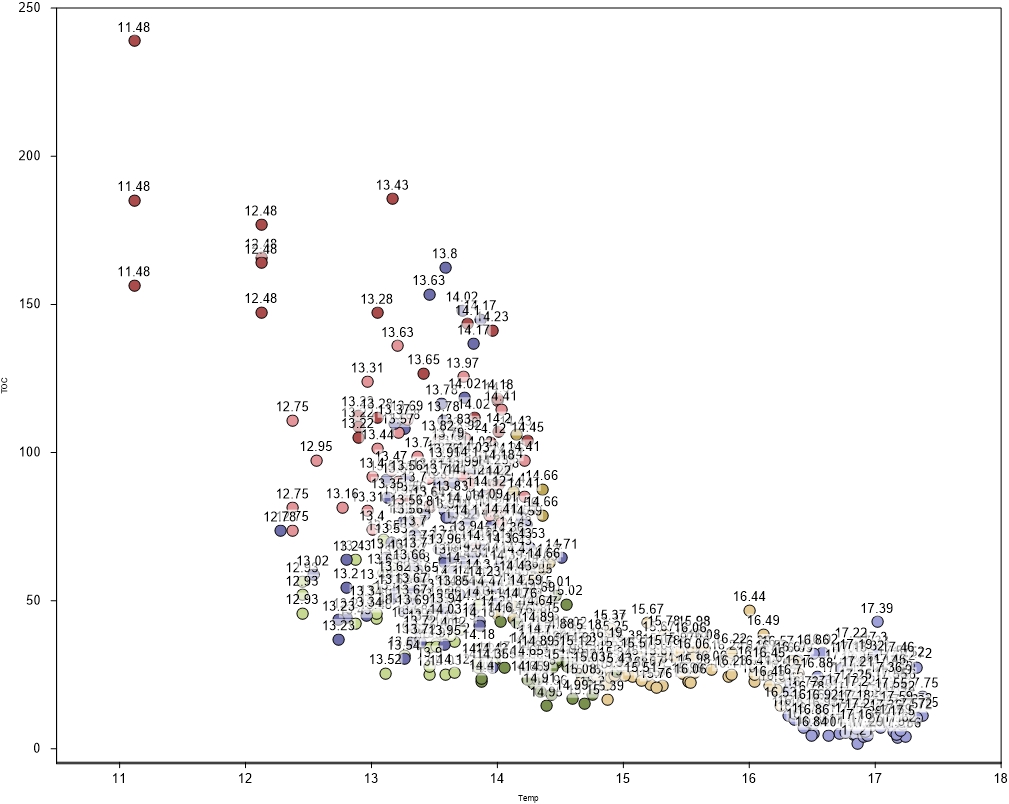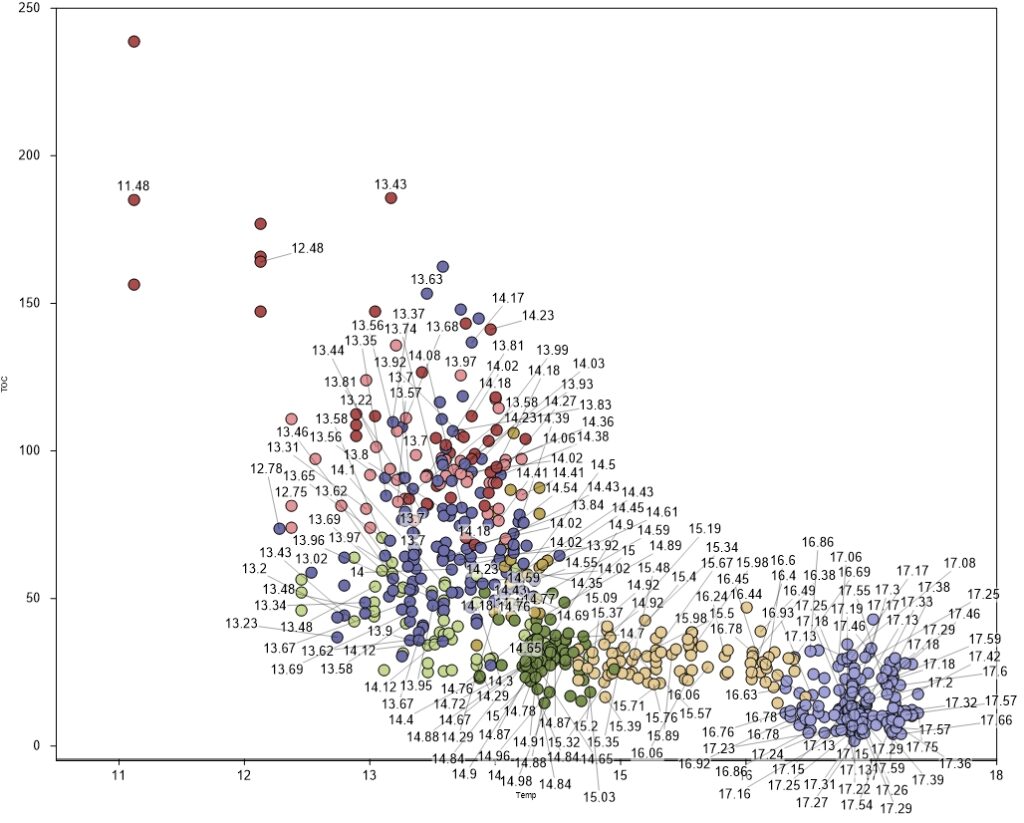 Up until now the Class Plot Legend for text classes has always been ordered in the order of items in the worksheet, Now you can re-order text classes using whatever system you like. This has been a highly requested new feature and we're happy to bring it you with this release of Grapher Beta!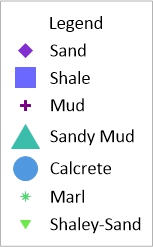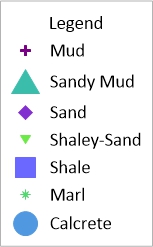 This new label formatting option converts your numeric data in the worksheet to percentage format, and adds the % sign suffix. This means less time spent manually converting decimal data to percentages in the worksheet.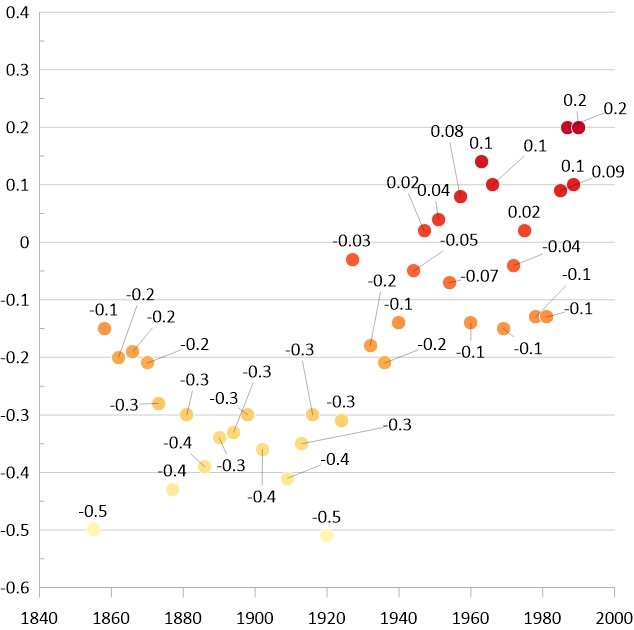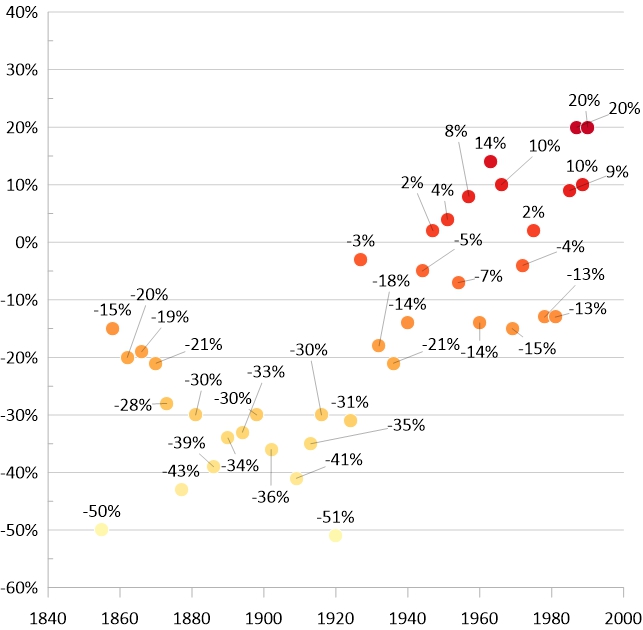 Easily arrange your plots, text, and shapes on the page by using the new Align to Margins and Distribute in Margins commands. These new tools will help you center objects on the page, assist with creating evenly spaced matrix layouts, and prepare your plots for publication.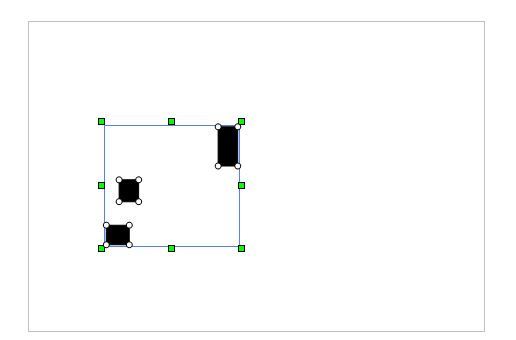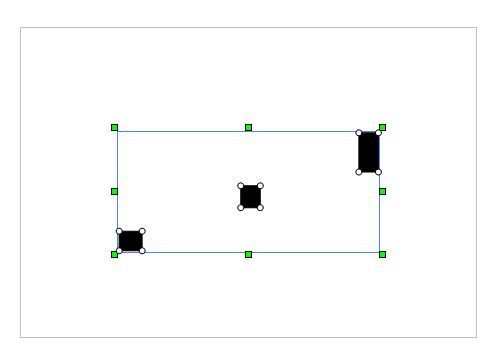 Status Bar improvements
The Status Bar now shows the position of the mouse cursor in the units of the selected plot axes. If your axes are in Date/Time format, Grapher Beta will match the formatting you have chosen for the axis labels, even down to hours/minutes/seconds.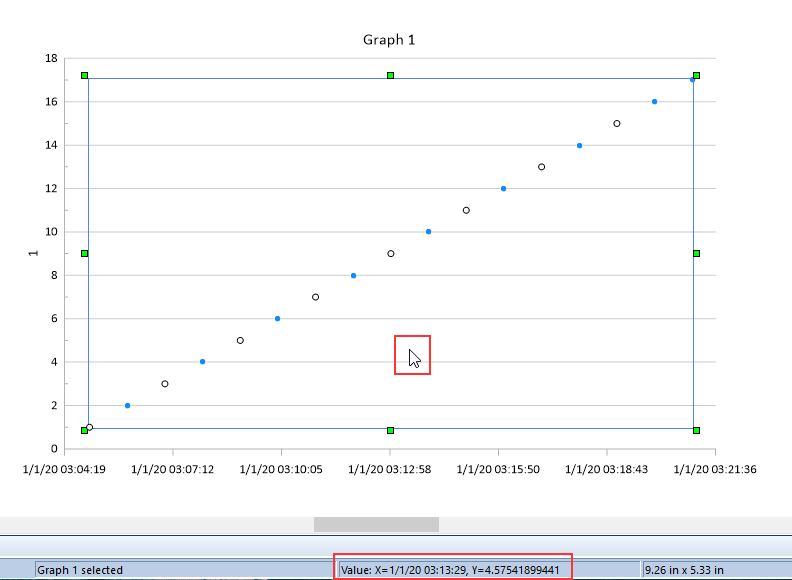 Digitize on your plots in Date/Time format of your axes
You can now also digitize on your plot, and the digitized points will be recorded in the Date/Time format of your axis labels. This removes the need to convert from Julian dates back into your preferred Date/Time format for post-processing.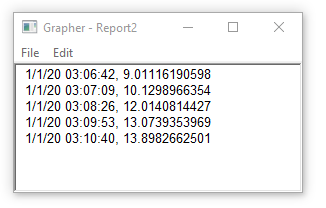 The Worksheet Manager now closes unused data tabs automatically
Reduce clutter in the Worksheet Manager! When data files are unlinked from the plot, they are automatically closed in the Worksheet Manager. This new feature will help keep you organized!
---
Requisiti di sistema di Grapher
I requisiti di sistema di Grapher sono elencati di seguito.
Windows 7, 8 (excluding RT), 10 or higher
32-bit and 64-bit operation system support
1024 x 768 or higher monitor resolution with minimum 16-bit color depth
At least 500 MB free hard disk space
At least 512 MB RAM