Statgraphics stratus is a version of Statgraphics that runs within a web browser as online statistics software.
You can enter data directly into the data editor or read data from text files, Excel files, or other common formats to perform online statistical analysis.
The calculations are performed remotely on a web server and the results are returned to your browser as HTML with imbedded graphics image
---
Overview
stratus Online Data Analysis Features
Nothing to download or install. This online statistical analysis program runs within most web browsers. It works as statistical software for Mac, PC, iPad, tablet computer, or any device with a web browser.
Data may be entered directly into the STATGRAPHICS online statistics software datasheet, copied and pasted using your system clipboard, or read from text, XML, or Excel files.
All online statistical analysis calculations are performed by STATGRAPHICS .Net Web Services running on our servers or yours. Output is returned as HTML with graphs imbedded as GIF images.
You can copy all output to local applications using your system clipboard. You may generate output in English, French, German, Italian or Spanish.
Analyses may be saved as XML scripts and rerun at a later date.
A selection of interactive STATLETS® are also provided for dynamic data visualization.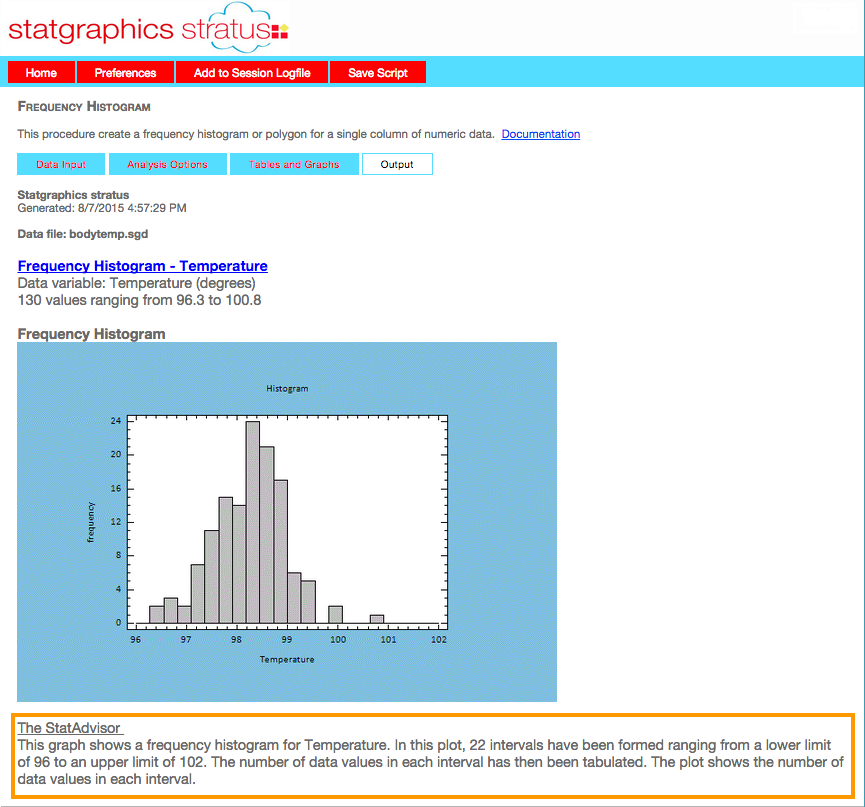 ---
Access
You can access STATGRAPHICS stratus online statistics software either as a guest or as a paid subscriber. Site licenses for online statistical analysis are also available for installing the product on one of your servers.
To try stratus statistical software online, go to www.statgraphicsstratus.com.
Maximum Rows
in Data File
Maximum Columns
in Data File
Maximum Data
Saved on Server
Maximum Data
Transfer per Month
Guest
100
10
10 files
100MB
Subscriber
10,000
1,000
100 files
No limit
Server license
No limit
No limit
No limit
No limit
---
Contents
Plot
• Scatterplots (X Plot, X-Y Plot, Multiple X-Y Plot, Bubble Chart, X-Y-Z Plot, Multiple X-Y-Z Plot, Matrix Plot)
• Numeric Data (Frequency Histogram, Box-and-Whisker Plot, Quantile Plot, Normal Probability Plot, Multiple Boxplot)
• Categorical Data (Frequency Table, Contingency Table)
• Probability Distributions (General Distributions, Sampling Distributions)
• U. S. Map
Describe
• Summarize Data
• Numeric Data (One Variable Analysis, Multiple Variable Analysis, Distribution Fitting)
• Categorical Data (Frequency Tabulation, Crosstabulation)
Compare
• Two Samples (Independent Samples, Paired Samples)
• Multiple Samples
• ANOVA (Oneway ANOVA, Multifactor ANOVA)
Relate
• Simple Regression
• Multiple Regression
Forecast
• Descriptive Time Series Methods
• Smoothing
• Seasonal Decomposition
• Forecasting (Automatic and Manual)
SPC
• Pareto Analysis
• Capability Analysis
• Control Charts for Variables (Individuals, Subgroups)
• Control Charts for Attributes (P and NP Charts, U Chart, C Chart)
• Weibull AnalysisSix Sigma Indices
Statlets
• Scatterplot Brushing
• Scatterplot Smoothing
• X-Y-Z Scatterplot
• Curve FittingSurface Fitting
• Interactive Histogram
• BIvariate Density Estimation
• Power Transformations
• Sample Size Determination
• Interactive Map
• Exponential Smoothing
• Stock Price Plots
• Probabilistic Fractal
---
User Guide
You may download the User Guide in PDF format: