Multiplying the Power of Mathematica over the Grid
Adalta è Rivenditore Unico per l'Italia di Wolfram gridMathematica. Richiesta quotazione…
---
A cosa serve gridMathematica?
Easily control CPUs & GPUs to solve large problems fast.
Extending Mathematica's built-in parallelization capabilities, gridMathematica runs more tasks in parallel, over more CPUs and GPUs, for faster execution. With gridMathematica, process coordination and management is completely automated. Appropriate parallel tasks run faster with no need for code changes.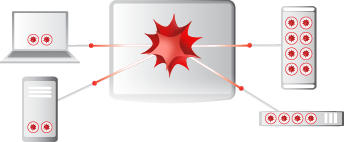 Providing a network-managed pool of at least sixteen computation kernels, gridMathematica can be shared by a group of Mathematica users locally and can run on remote hardware to combine the power of multiple computers.
Parallel Computation Comes Standard with Mathematica

Every copy of Mathematica includes the capability for instant parallel computing at no additional charge. In single-machine configurations, Mathematica includes the ability to compute across four, eight or sixteen local processor cores, depending on your Mathematica edition. With the purchase of a Mathematica Core Extension, you can increase your local processor core support by at least 50%.

Premier Service subscribers and gridMathematica users also receive complimentary use of Wolfram Lightweight Grid Manager, a program that makes it easy for users to find and use Mathematica installations on remote machines and to create ad hoc grids powered by unused Wolfram Engine processes.
---
Cosa è gridMathematica?
gridMathematica is an integrated extension system for increasing the power of your Mathematica licenses. gridMathematica Server gives Mathematica users a shared pool of at least sixteen additional network-enabled Mathematica computation kernels for running distributed parallel computations over multiple CPUs.
There is no need to change your existing parallel code—just make gridMathematica Server available, and parallel programs can automatically use the additional CPU power. Whether you have a massive parallel task or just want a little boost, you can quickly grab some extra power when you need it.
LOCAL HARDWARE
All additional kernels run on each
user's own machine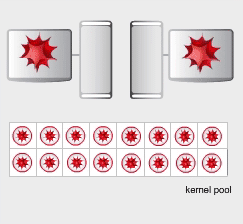 HIGH-PERFORMANCE CLUSTER
A dedicated cluster of machines running
a specialized grid-management too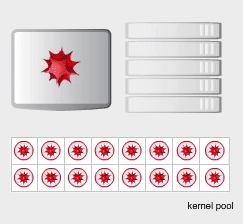 AD HOC GRID
A network of different machines
available for parallel computation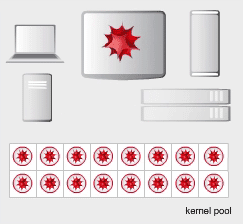 Learn more about high-performance computing with Wolfram technologies:
gridMathematica provides:
Grid deployment of all of Mathematica's functionality, including its state-of-the art, super-fast numerical routines, image processing, statistics and finance capabilities. It even supports remote access to GPUs and the distributed on-the-fly generation and compilation of parallel C code. If you can do it in Mathematica, you can do it over the grid.
A high-level parallel programming language, which automates much of the communication, synchronization, data transfer and error recovery that usually makes grid computing so difficult to set up. With automatically serialized data transfer, you can send any structured data and programs to remote machines without needing to configure a common file system.
Support for HPC standards, including cluster managements systems Altair PBS Professional, Microsoft Windows Compute Cluster Server, Microsoft HPC Server, Platform LSF and Sun Grid Engine and includes Wolfram Lightweight Grid software for systems without cluster management. Gigabit and high-speed networks are supported, and both CUDA and OpenCL GPU hardware are supported.
---
FAQ su gridMathematica
Parallel Computing
Will parallel computation make all my Mathematica programs faster?
No, it will only speed programs written using the parallel functions in the Mathematica language, and only tasks suitable for parallelization. See the tutorial for details. Also, some built-in Mathematica commands will make use of gridMathematica if it is available.
Can I do parallel computations without gridMathematica?
Yes. Since Mathematica 7, every Mathematica license includes all of the parallel programming tools; one controlling kernel; and four, eight or sixteen computation kernels, depending on your Mathematica edition. This configuration is optimized for writing parallel computations to run on standard multi-core machines. Mathematica Core Extensions allow you to add additional computational kernels to your local machine, and gridMathematica scales such programs up to ad hoc and formal grid architectures.
Do I need Parallel Computing Toolkit?
No. The parallel programming tools contained in Mathematica supersede Parallel Computing Toolkit, which has been discontinued.
What is the optimal number of computation kernels for my hardware?
This depends on the details of your programs, but a rough guide would be one computation kernel for each available CPU core.
Can other people use my single-machine computation kernels from their Mathematica programs?
No. Your single-machine license and any Mathematica Core Extensions added to it must either be used directly at the computer it is installed on or remotely by you, the registered user.
gridMathematica
Can Mathematica use gridMathematica and a Mathematica Core Extension at the same time?
Yes. A Mathematica parallel program will simultaneously distribute tasks seamlessly across all available local and remote computation kernels, including any computation kernels from gridMathematica and Mathematica Core Extensions.
Do I still need Mathematica if I have gridMathematica?
Yes. gridMathematica computation kernels are controlled by a Mathematica controlling kernel. Every user of gridMathematica must have access to a Mathematica license to be able to submit tasks. Our sales team will help you get set up with the right licenses for your needs.
Can I access gridMathematica from a single-machine license of Mathematica?
Yes. Both single-machine and network licenses of Mathematica can send computations to gridMathematica.
Can other people use my gridMathematica?
Yes, if they are members of your organization and you allow them to. Each gridMathematica computation kernel can be acquired by a different user. This allows up to 16 people to benefit from each gridMathematica license at the same time. Wolfram Lightweight Grid Manager makes this easy and lets you control access.
Do controlling and computation machines need to share a common filesystem?
No. The Mathematica parallel programming tools can send any kind of data, including the program to be executed, over the connection between the controlling and computation kernels. There is no need to copy data or the distributed program onto the filesystem of the computation machine.
Can I control which computers the computation kernels run on?
Yes. As long as you have the means and privileges to launch Mathematica on those machines (e.g. having Wolfram Lightweight Grid Manager installed), you can configure how many kernels to run on which machines. Even if you have no access to remote machines, you can acquire kernels from gridMathematica to run on your local machine.
What grid-management systems does gridMathematica support?
gridMathematica supports Wolfram Lightweight Grid Manager, Altair PBS Professional, Microsoft Windows Compute Cluster Server, Microsoft HPC Server, Platform LSF and Sun Grid Engine. See also the supported platforms page.
How do I set up gridMathematica Server?
Explicit instructions are available here.
How is gridMathematica priced?
gridMathematica pricing depends on your needs: the number of computer kernels, and full Mathematica licenses, as well as whether you wish to buy or lease. Please contact sales to receive a personalized price quote.
Wolfram Lightweight Grid Manager
Can Wolfram Lightweight Grid Manager control a group of separate computers?
Yes, but Wolfram Lightweight Grid Manager must be installed on every computer in the group.
Can I control who has access to each machine?
Yes, you can control which IP addresses or ranges can launch kernels via Lightweight Grid Manager. Other grid-management systems may provide other options.
Can I control the machines' workload?
Yes, you can specify a maximum number of computation kernels that can run on each machine.
Do I have to use Lightweight Grid Manager?
No. If you are running a supported grid-management system, you may use that instead of Wolfram Lightweight Grid Manager. Even if you do not, you can set up your own solution for remotely launching and connecting to Mathematica kernels.
Are there security considerations for running Lightweight Grid Manager?
Yes. Lightweight Grid Manager allows users to run any Mathematica code on your computer. Mathematica can read, write and delete files and can run other programs. You should consider who to allow to do this and what access privileges to give them. Wolfram Lightweight Grid Manager configuration control is password protected.